U skladu s značenjem ovo izraza, želim vam svima beskonačnu sreću te vam se zahvaljujem što se posjetili moj blog. :)
Izraz "Blagoslovljeni bili" (eng. Blessed be) je najčešće upotrijebljeni izraz u neopaganskom i wiccanskom društvu. Često se upotrebljava kao pozdrav u ovim paganskim krugovima te među vješticama također.
Sam izraz bi vam mogao biti poznat i iz drugim duhovnih pravaca jer ih mnogo prihvaća pojam blagoslova, blagoslivljanja i sličnih ideja u svoje prakse. No što čini srž ovih riječi i izraza?
Blagoslov se definira kao čin odobravanja, (u biblijskom smislu) zazivanje nad nekim za moć plodnosti / života / materijalno obilje / društveni položaj, ili pak u kršćanskoj tradiciji kao čin kojeg obavlja posvećena osoba (svećenik) kojim se po zazivu Božjem, blagoslovljenoj osobi želi Božja zaštita na poseban način. Gledajući samo etimologiju, korijen riječi "blagoslov" se može naći u spoju riječi "blag" i "slovo". "Blag", u ovom slučaju znači "koji je dobre naravi/dobroćudan/mio/ugodan", a riječ "slovo" se odnosi na prigodni govor ili neki znak (obično se misli na pismeni).
Engleska verzija izraza glasi:
Blessed be
(/ˈblesɪd biː/) čija se osnova nalazi u riječi
bless
. Ona potječe od staroengleske riječi
bletsian
(koja se također piše
bledsian
) koja znači
"posvetiti, učiniti svetim, zahvaliti se". Koristilo ju se u staroengleskim Biblijama za prijevod dvaju glagola: latinskog
benedicere
te grčkog
eulogein
koji znače "govoriti dobro o nečemu, slaviti/hvaliti". Ova su se dva glagola
de facto
koristila za prevođenje hebrejskog glagola
brk
koji znači "saviti (koljeno), štovati, slaviti, zazivati blagoslove". Čini se da je došlo do krive etimologije riječi jer ju se s vremenom poistovjetilo s engleskom riječju
bliss
(u prijevodu blaženstvo, uočite da se razlikuju samo u jednom slovu) s kojom zaista nema nikakve veze. Zbog ove je poveznice riječ bless uskoro počela značiti "proglasiti/učiniti nekoga/nešto sretnim". Engleska imenica blessing dolazi od staroengleske riječi
bletsunga
(ili
bledsunge
) koju se može prevesti kao dar Božji. U 12. je stoljeću pridjev
blessed
(izgovara se /ˈblesɪd/, u prijevodu znači "blagoslovljen" i tvori središte izraza kojim ćemo se danas baviti) značio "izrazito sretan" ili "posvećen" kao što sam natuknula u prvom paragrafu ovoga posta.
A sad kad smo završili s ovim dosadnim etimološkim dijelom posta (kojeg iz nekog razloga osobno toliko volim), vrijeme je da prijeđemo dalje na one najzabavnije dijelove! :D
Možda se pitate sljedeća pitanja:
"Kada je prikladno reći 'Blagoslovljeni bili' nekome?"
Ovaj je izraz postao ključni dio paganskih obreda, ali i svakodnevnice pagana diljem svijeta. U novije je vrijeme postao pozdrav kojeg se koristi jednako kao što biste koristili i izraze "dobar dan" ili "doviđenja". Neki su mišljenja da je ovo neprikladno te da se ovakvi izrazi trebaju rezervirati isključivo za rad unutar kruga, no ovo je individualno. Generalno govoreći, nitko se ne bi trebao uvrijediti ako ih pozdravite na ovakav način.
Također, čak i ako vi sami niste paganin i ovo zaželite nekom paganinu, vaša će želja biti jednako srdačno prihvaćena. Dakle, ovaj izraz nije rezerviran isključivo paganima za upotrebu. :)
Mogli biste naići na kraticu ovog izraza koja glasi "BB" koju se često koristi na internetu. Ona također može biti skraćena i za engleski izraz "Bright(est) blessing(s)" (u prijevodu radosni/najradosniji blagoslovi") kojeg se koristi kao istoznačnicu izraza "blagoslovljeni bili" iako je mnogo mlađeg porijekla i ne dolazi od istog izvora.
U ritualima izraz "blagoslovljeni bili" igra uvodnu ulogu, ili se pak koristi u zaključcima (često za različite invokacije/evokacije). Često ga se koristi kako bi se otvorio, odnosno zatvorio grupni ritual čime se zapravo implicira davanje blagoslova i najljepših želja svim sudionicima u krugu. Kada smo se već dotakli teme rituala, smatram da je vrijeme da kažem nešto o povijesti ovog izraza.
"Odakle ovaj izraz potječe?"
Obično se smatra da potječe od rituala zvanog
Spuštanje Mjeseca
(eng.
Drawing down the Moon
) u kojemu Visoki svećenik zaziva Božicu u tijelo Visoke svećenice (pošto je prikladno da žena bude predstavnike Božice). O ovome sam ritualu detaljno govorila u prijašnjem postu o
ritualu otvaranja
, no reći ću još ponešto i ovdje.
U prvom dijelu rituala Spuštanja Mjeseca se nalazi manji ritual koji nosi naziv "
peterostruki poljubac
" (eng.
Fivefold kiss
). Ovo je zapravo pravi izvor izraza "Blagoslovljeni bili". Ritual sam po sebi služi kao simbolično štovanje, ili poštivanje Božice od strane Boga (iako može biti i obratno, no ovo je uobičajeno). Radi se o ritualnim poljupcima (ili sličnom simboličnog čina) pet dijelova tijela (zapravo deset pošto ih je većina u parovima). Ritual je opisan jako detaljno u prekrasnoj knjizi Janet i Stewart Farrar zvanoj
The Witches' Bible
(prijašnju verziju se može naći na internetu pod imenom
Eight Sabbats for Witches
), no ritual glasi otprilike ovako:
Visoka svećenica stane leđima okrenuta oltaru, u desnoj ruci drži štap, a u lijevoj bič (ruke su prekrižene u tzv. pozi Ozirisa)
Visoki svećenik klekne pred Visoku svećenicu
Visoki svećenik ljubi redom Visoku svećenicu na sljedećim mjestima: desno stopalo, lijevo stopalo, desno pa lijevo koljeno, maternicu, desnu pa lijevu dojku i usne. Kada je on poljubi na području maternice, ona raširi ruke u pozi dobrodošlice (naprosto raširene ruke kao da ćete nekoga zagrliti). Jasno mi je da je ovaj dio dosta škakljiv za neke, ali ne brinite, uvijek možete smisliti drugu varijantu, npr. da umjesto direktnog poljupca, Visoki svećenik poljubi svoju ruku i onda je lagano prinese mjestu kojeg treba poljubiti (obično koristi samo kažiprst i srednji prst), ili može pak samo rukama lebdjeti iznad tog dijela tijela držeći ih gesti blagoslova. Ovako se i dalje vrši prijenos energije, a praktičari se mogu osjećati ugodnije. Ako niste upoznati s ovom terminologijom poza i gesta, možete sve potrebne informacije naći u ovom postu.
Dok Visoki svećenik ljubi spomenuta mjesta, nakon svake "skupine" (stopala, koljena, maternica, grudi, usne) izgovara sljedeće rečenice:
"Blagoslovljene bile Tvoje noge koje su Te dovele ovim putem."

"Blagoslovljena bila Tvoja koljena koja će klečati pred svetim oltarom."

"Blagoslovljena bila Tvoja maternica bez koje mi ne bismo postojali."

"Blagoslovljene bile Tvoje grudi koje su stvorene od ljepote."

"Blagoslovljene bile Tvoje usne koje će izgovarati Sveta Imena."
(Napomena: na Imbolc kada Visoka svećenica daje Visokom svećeniku poljubac, treba reći "falus" umjesto "maternica" i treba zamijeniti "stvorene od ljepote" sa "stvorene od snage".)
Nakon ovog dijela rituala slijedi Spuštanja Mjeseca i druge kraće ceremonije o kojima možete više pročitati u prije spomenutom postu o ritualu otvaranja. No da se vratimo na glavu temu ovoga posta, zasigurno ste primijetili da se riječi "Blagoslovljeni bili" (u različitim varijantama) spominju pet puta samo u ovom kratkom ritualu. Ukratko, kada netko kaže "Blagoslovljeni bili", to implicira cijeli ovaj ritual. Naravno, to ne znači da se on izveo samim izgovorom ovih riječi već da su se samo blagoslovili ovi dijelovi tijela. Naime, navedeni dijelovi tijela predstavljaju cijelu osobu (dakle njihovo fizičko i duhovno tijelo), ali i simboliku i implikacije koje ovi dijelovi tijela imaju (npr. maternica predstavlja plodnost pa time osoba podaruje plodnost osobi kada blagoslivlja ovaj dio tijela itd.). U slučaju da imate još neka pitanja vezane uz peterostruki poljubac, smatram da ćete naći odgovore na njih u ovome kratkom videu.
Može se reći da su ritual Spuštanja Mjeseca, a time i obred peterostrukog poljupca uobičajeni dijelovi svakog grupnog rituala a time je i sam izraz "Blagoslovljeni bili" dio gotovo svakog rituala. No, nije nužno potrebno izvesti ove rituale kako bi se izgovorile ove riječi. Jednako se lako može njima zaželjeti dobrodošlica ostalim članovima grupe u krug. Također se može (i usput, ovo je jako uobičajeno) završiti zazivanje četvrti ili bilo kakvu drugu invokaciju ili evokaciju ovim izrazom. Ukratko, može ga se koristiti umjesto izraza "dobar dan/dobrodošli" i "doviđenja".
Gerald Gardner i peterostruki poljubac
Neki tvrde da je Gerald Gardner zapravo bio prvi koji je upotrijebio izraz "Blagoslovljeni bili" u svome (navodno) fikcionalnom djelu
High Magic's Aid.
Ono je zapravo bila prva objavljena knjiga koja je otvoreno opisivala paganski ritual. Pošto su vještičarstvo i njemu slične prakse bile gotovo ilegalne u to doba (a uz to su postojale i mnoge druge restrikcije), knjiga je bila objavljena pod krinkom romana. No, ona je bila zasnovana na Gardnerovom osobnom iskustvu sa svojim tadašnjim kovenom. Također, nemojte se iznenaditi ako ne vidite Gardnerovo ime na naslovnici. Kao što sam istaknula, prilike tog doba nisu baš njemu išle u prilog pa je upotrijebio pseudonim Scire kako bi zaštitio sebe i svoju privatnost.
On u knjizi opisuje peterostruki poljubac sljedećim riječima:
"Suddenly he was pulled to a stop, at the south side of the altar, where he stood swaying, his head reeling. Morven struck eleven strokes on a little bell, then knelt at his feet, saying: "In other religions, the postulant kneels as the priests claim supreme power. But in the art magical, we are taught to be humble, so we say
(kissing his feet): Blessed be thy feet that have brought thee in these ways.
(kissing knees) Blessed be thy knees that shall kneel at the sacred altar.
(kissing phallus) Blessed be the organ of generation, without which we would not be.
(kissing breasts) Blessed be thy breasts, formed in beauty and in strength.
(kissing lips) Blessed be thy lips, which shall utter the sacred names."
Slobodni prijevod: Odjednom ga je nešto zaustavilo na sjevernoj strani oltara gdje se ostao njihati vrteći glavom. Morven je zazvonio jedanaest puta zvoncem te mu kleknuo pred noge govoreći: "U drugim vjerama novaci trebaju klečati pred svećenicima koji imaju vrhovnu moć. No u magijskom umijeću smo naučeni da trebamo biti ponizni. Stoga kažemo:
(ljubeći mu stopala) Blagoslovljene bile tvoje noge koje su te dovele ovim putem.
(ljubeći mu koljena) Blagoslovljena bila tvoja koljena koja će klečati pred svetim oltarom.
(ljubeći falus) Blagoslovljena bila tvoja maternica bez koje mi ne bismo postojali.
(ljubeći prsa) Blagoslovljene bile tvoje grudi koje su stvorene od ljepote.
(ljubeći usta) Blagoslovljene bile tvoje usne koje će izgovarati Sveta Imena.
Zamolila bih sve čitatelje koji nisu upoznati s paganskim ritualima da ništa ne vade iz konteksta. Možete pročitati cijeli roman na poveznici koja je poviše navedena. Ovaj citat možete naći na 183. stranici.
Uz ove primjere, izraz se uspio uvući u još jednu zanimljivu priču, odnosno mit:
Legenda o silasku Božice
Perzefona i Had: tondo
cca. 440.–430.g.pr.Kr.
U središtu legende se nalazi simbolično spuštanje Božice u podzemni svijet koji predstavlja smrt). Priče poput ove postoje u grčkoj (mit o Demetri i Kori), egipatskoj (Izida i Oziris) i nordijskoj mitologiji (Odinovo vješanje s Yggrasila i gledanje u dubine bunara Wyrd/Urd) te u šamanskoj praksi (gdje lik Čuvara misterija igra važnu ulogu jer on treba pustiti pojedinca da prođe dalje i suoči se sa smrću). Ovi mitovi ne predstavljaju pravu smrt već suočavanje pojedinca sa strahom od smrti (kojeg se treba savladati). Može ih se također povezati i sa psihologijom Carla Junga i konceptima Anime/Animusa (koji su predstavljeni figurama nalik Čuvaru misterija) te Sjenke (sama smrt).
Legenda o silasku Božice (eng. the Legend of the Descent of the Goddess) se izigrava za vrijeme inicijacija drugog stupnja u gardnerijskoj i aleksandrijskoj tradiciji wicce. Tijekom ovih "obrednih predstava", uloge su podijeljene na način da Visoki svećenik obično igra ulogu Smrti, Visoka svećenica igra ulogu Božice, a ostali se likovi odaberu po dogovoru (iako ovo nisu fiksna pravila). Također treba postojati i narator koji govori sve ono što nije u navodnicima. Na engleskome priča glasi:
Now our Lady the Goddess has never loved, but she would solve all the mysteries, even the mystery of Death: And so she journeyed to the Underworld. The Guardians of the portals challenged her:
"Strip of thy garments, lay aside thy jewels; for naught mayest thou bring with thee into this our land."
So she laid down her garments and her jewels, and was bound, as are all who enter the Realms of Death, the Mighty One. Such was her beauty that Death himself knelt and kissed her feet, saying:
"Blessed be thy feet, that have brought thee in these ways. Abide with me; but let me place my cold hand on thy heart."
She replied: "I love thee not. Why dost thou cause all things that I love and take delight in to fade and die?"
"Lady," replied Death, "'tis age and fate, against which I am helpless. Age causes all things to wither; but when men die at the end of time, I give them rest and peace, and strength so that they may return. But thou! Thou art lovely. Return not; abide with me!"
But she answered: "I love thee not."
Then said Death: "An thou receivest not my hand on thy heart, thou must receive Death's scourge."
"It is fate—better so," she said. And she knelt and Death scourged her tenderly. And she cried, "I feel the pangs of love."
And Death said, "Blessed Be!" and gave her the Fivefold Kiss, saying:"Thus only mayest thou attain to joy and knowledge."
And he taught her all the mysteries, and they loved and were one, and he taught her all the Magics. For there are three great events in the life of man: Love, Death, and Resurrection in the new body; and Magic controls them all. For to fulfil love you must return again at the same time and place as the loved one, and you must remember and love them again. But to be reborn you must die and be ready for a new body; and to die you must be born; and without love you may not be born; and this is all the Magics.
U slobodnom prijevodu:
Naša Gospa Božica do sada još ne ljubi nikoga, no ona htjede objasniti sve misterije, čak i misterij Smrti; stoga ona otputuje u podzemni svijet. Čuvari portala ju izazvaše:
"Razodjeni se, ostavi po strani svoj nakit; jer ništa ne smiješ ponijeti sa sobom u ovu našu zemlju"
I zaista, ona se razodjene, ostavi po strani svoj nakit te bijaše vezana, kao i svi koji ulaze u Kraljevstvo Smrti, Svemoćnoga. Tolika bijaše njezina ljepota da i sama Smrt pokleknu pred njom, poljubi joj stopala i reče:
"Blagoslovljena bila tvoja stopala koje su te dovele ovim putem. Ostani sa mnom; ali dozvoli mi da položim svoju hladnu ruku na tvoje srce."
Ona odgovori: "Ne volim te. Zašto uzrokuješ da sve stvari koje volim i kojima se radujem iščeznu i umru?"
"Gospo," odgovori Smrt, "to su godine i sudba protiv kojih sam ja nemoćan. Godine uzrokuju uvenuće svih stvari; no kada ljudi umru na kraju vremena, ja im dajem počinak i mir te snagu kako bi se mogli vratiti. Ali vi! Vi ste prelijepi! Ne vraćajte se; ostanite sa mnom!"
No ona odgovori: "Ne volim te."
Potom smrt reče: "Ako nećeš prihvatiti moju ruku na svoje srce, moraš primiti bičevanje Smrti."
"To je kob - bolje je tako," reče ona. I ona poklekne i Smrt ju izbičuje nježno. I ona uzvikne: "Osjećam bol ljubavi."
I smrt reče: "Blagoslovljena bila!" i dade joj peterostruki poljubac govoreći. "Jedino ovako možeš zadobiti sreću i znanje."
I on ju poduči svim misterijima i oni se voliše i bijahu jedno te ju on poduči svim Magijama. Jer postoje tri velika događaja u čovjekovu životu: Ljubav, Smrt, i Ponovno rođenje u novom tijelu; a Magija im svima upravlja. Jer za postići ljubav se trebaš ponovno vratiti u isto vrijeme i na isto mjesto kao i tvoja ljubav, te ih se moraš sjetiti i ponovno ih zavoljeti. Ali da bi se ponovno rodio trebaš prvo umrijeti i biti spreman za novo tijelo; a da bi umro se trebaš roditi; a bez ljubavi se ne možeš roditi; i ovo su sve Magije."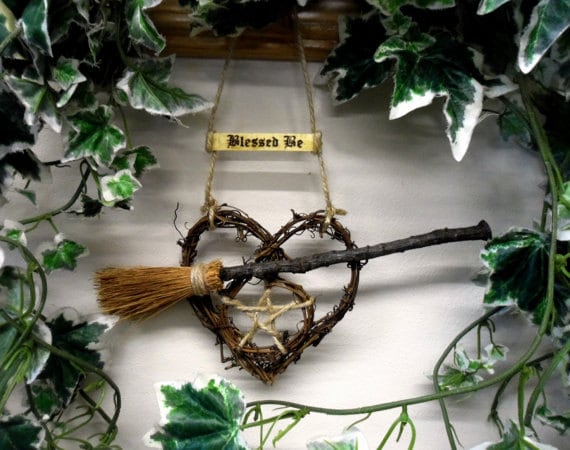 Naravno, ovo nisu jedini tekstovi u kojima ćete naići na ovaj izraz, ali oni tvore osnovu shvaćanja njegovih implikacija. Možete naći na njega u mnogim drugim knjigama, ritualima te ga čuti tijekom rituala ili bilo kakvog paganskog okupljanja. Samo se nadam da ćete zapamtiti ono što vam treba iz ovoga posta te se sjetiti značenja i vrijednosti ovog izraza kada bude potrebno.
Olakšanje mi je konačno vam moći reći sljedeće riječi znajući sa sigurnošću da u potpunosti razumijete ono što njima želim prenijeti:
BLAGOSLOVLJENI BILI! :D