William Blake - Trostruka Hekata (eng. The Night of
Enitharmon's Joy / The Triple Hecate), 1795
Iako se Hekatu naziva božicom vještičarsva, ona je mnogo više od toga. Njezina mitologija, njeni kultovi i uloga u društvu su zasigurno vrijedni spomena jer su igrali važnu ulogu u antičko doba. Vjerovalo se da je ona imala moć promijeniti ljudsku sudbinu tako da im podari ili oduzme bogatstvo, omogući pobjedu ili uzrokuje njihovu smrt, tako da podari sreću lovcima i moreplovcima, ili ako su je oni razbjesnili da im podari lošu sreću. Uz sve ovo je još imala moć nad prosperitetom mladih ljudi i stoke.
Pokušati ću napisati kratku biografiju ove božice, iako će nekima biti previše jednostavna. Neću spomenuti SVE teorije i interpretacije koje postoje, već ću istaknuti samo one najvažnije. Bez obzira na ovo, nadam se da će vam ovaj post biti koristan. :) Ako vam se svidi, preporučam da pogledate jednu prekrasnu i jako profesionalnu web stranicu koja se zove
Theoi Greek Mythology
. Na njoj možete naći još mnogo informacija o ovom božanstvu, kao i o bilo kojem drugom aspektu grčke mitologije koji vam padne na pamet. Ono što se meni posebno dopada jest potkrijepljenost svih tvrdnji citatima klasičnih autora i izvacima iz dokumenata.
Porijeklo Hekate
Hekata (lat. Hecate, grč. Hekatê), kako se obično misli, je originalno bila tracijska božica mjeseca, a ne izvorno grčko božanstvo. Tračani su bili skupina indoeuropskih plemena koji su živjeli u središnjoj i jugoistočnoj Europi. Imali su kontakta s Grcima, iako su po onome što se zna vjerojatno bili neprijatelji. Izgleda da su Grci kolonizirali Trakiju u neko doba i vjerojatno se u tom procesu Hekata asimilirala u grčku vjeru i mitologiju kao i mnoge druge religijske i mitološke figure.
Vjeruje se da je njezino ime poteklo od ženske varijante epiteta hekatos (onaj koji radi iz daleka). Nije u potpunosti jasno zašto ju se tako nazivalo, ali jest poznato da se ovaj pridjev obično asocirao s Apolonom s kojim se nju također često povezivalo. Apolon je bio bog-strijelac koji je obično ciljao iz daleka (također je bio bog iznenadne smrti) pa je njegova asocijacija s ovim pridjevom jasna. Moje je mišljenje da je Hekata, kao božica lova (koja je također lovila pomoću luka i strijele) imala iste asocijacije kao Apolon kada je ova tema bila u pitanju. Naravno, postoje i druge teorije, ali je ovo najšire prihvaćena od njih.
Hekatina biografija
Rođenje
Najbolje prihvaćena priča o njezinom rođenju jest da su je na svijet donijeli titani Perzes (eng. Perses, nisam uspjela naći prijevod imena, ovako bih ga ja prevela) i Asterija. Perzes je bio titanski bog razaranja, a Asterija, koju se također nazivali "Zvjezdana noć" (eng. the Starry Night) je bila titanska božica proroka, proročanstava, noći, astrologije, snova itd.
Svi titani su zapravo predolimpijska božanstva što znači da su , prema grčkoj mitologiji, vladali nebom, zemljom i podzemnim svijetom prije nego što su Zeus i drugi olimpijski bogovi uzeli stvari u svoje ruke. Pošto je Hekata kćer dvaju titana, i ona je sama titan, a time isto prethodi olimpijskim božanstvima.
Njezina uloga u gigantomahiji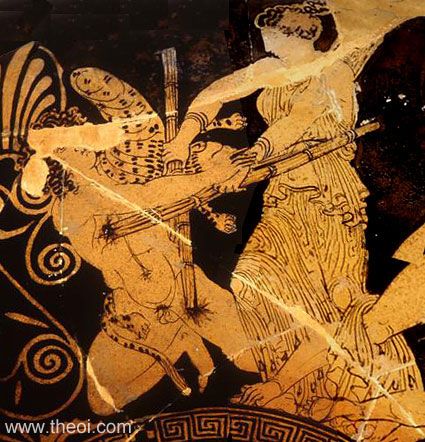 Hekata i gigant Klitije, atenska crveno
figuralna vaza, Antiken-museen, Berlin,
Njemačka, cca. 410.-400.g.pr.n.e.
(ona je prikazana kako ubija giganta
pomoću svojih dviju baklji)
Priča gigantomahije je jako komplicirana, ali ću je pokušati skratiti. Dva božanstva iz grčke mitologije su povezana s grčkom pričom postanka svijeta: Uran (Nebo) i Geja (Zemlja). No, vrijedi napomenuti da oni nisu bila prva božanstva. U svakom slučaju, ovaj je par imao više djece koji su nama poznati kao titani. Postoji više generacija titana, a i Perzes i Asterija pripadaju drugoj generaciji, što bi značilo da su im Uran i Geja djed i baka na neki način.
Ali Geja i Uran nisu bili baš najbolji par. On joj je zatočio djecu a ona se htjela osvetiti. Uspjela je okrenuti titane protiv Urana te zadužila Krona, najmlađeg od sviju, da ga kastrira a time i ubije. U ovom je procesu nekoliko kapi njegove krvi palo na tlo (tj. Geju), a iz njih su se rodili, između ostalog, i giganti. Ovaj rat između titana i Urana je poznat kao titanomahija. Naravno, priča ne završava ovdje. Prije nego što je umor, Uran je na neki način prokleo Krona i predvidio da će njegova djeca njega svrgnuti s vlasti kao što je on svog oca (tj. Urana).
Kron je odlučio ne riskirati te zatočio gigante u Tartaru skupa sa svime drugima koji su bila potencijalna prijetnja njegovoj vladavini. S vremenom je postao još gori i pojeo svu svoju djecu osim jednoga - Zeusa. Naime, Kronova žena Reja je jedva uspjela spasiti Zeusov život tako da je zavarala Krona davši mu da pojede stijenu omotanu u deku umjesto Zeusa.
U svakom slučaju, kada je Zeus odrastao, natjerao je oca da izbljuje svu svoju djecu (odnosno Zeusovu braću i sestre). Ostvario je Uranovo proročanstvo tako što se pobunio protiv Krona i sam zavladao Olimpom. U osnovi je pobijedio sve titane i zatočio ih u Tartar.
Sada konačno dolazimo do gigantomahije koju sam spomenula u podnaslovu. Geja je htjela vratiti titane na vlast i bila je bijesna na Zeusa. Stoga je povela gigante u rat protiv Zeusa i ostalih olimpijskih božanstava. Na kraju su olimpijci pobijedili uz pomoć Herkulesa kao što je predvidjelo bilo jedno drugo proročanstvo. Gigantomahija je bila golema mitološka borba i ovaj jako, jako kratki sažetak nije ni do koljena potpunoj verziji. No, trebati će biti dovoljno za sada. Svakako, mnoštvo božanstava i mitoloških figura je sudjelovalo u ovom boju, a među njima i Hekata.
Hekata se dokazala u borbi ubivši giganta Klitija. Zeus ju je nagradio nakon borbe što je bila na strani olimpijskih božanstava, odnosno ništa joj nije oduzeo. Kao titan, ona je imala određenu moć nad zemljom, morem, nebom i podzemnim svijetom (iako se ovo obično navodi kao tri cjeline: zemlju, nebo i podzemni svijet, ali ću ovo obrazložiti kasnije). Zeus joj je zapravo dozvolio da zadrži ovu moć jer je dokazala svoju vrijednost, hrabrost i, što je još važnije, odanost.
Otmica Perzefone - Hekata kao podzemno božanstvo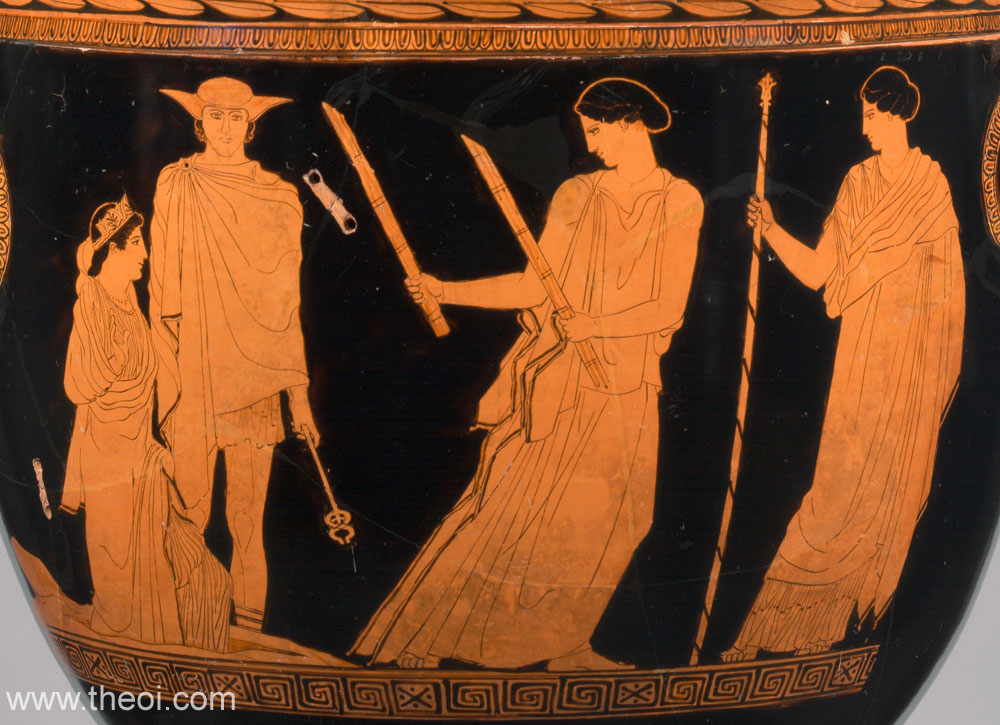 Povratak Perzefone, atenska crveno
figuralni krater, Metropolitan Museum,
New York, SAD (Hermes vodi
Perzefonu iz podzemnog svijeta, Hekata
i Demetra joj pružaju dobrodošlicu;
Hekata je ona koja drži dvije baklje)
Prema mitovima, Had (bog podzemlja) se zaljubio u Perzefonu (božicu proljeća). te ju oteo. Njezina majka Demetra ju je tražila posvuda, a u tome joj je pomogla, naravno, Hekata. Kao što je i prije bio slučaj, i ovo je samo jedan mali fragment cijelog mita, ali će poslužiti za našu priču. Dok je Perzefona vikala u pomoć dok ju je Had otimao/silovao (ovo varira od mita do mita), Hekata je bila jedina koja ju je čula. Hekata se potom pridružila Demetri u njezinoj potrazi i vodila je kroz tamu pomoću svojih baklji kako bi skupa spasile Perzefonu. Nakon što su je našle, Hekata je odlučila ostati u podzemnom svijetu kao Perzefonina družica.
Ovako je Hekata postala božica podzemnog svijeta. No, ovaj mit nije toliko star kao neki drugi jer potječe tek iz doba grčkih tragedija. U svakom slučaju, Hekata je u podzemnom svijetu bila zadužena za duše preminulih; ona ih je pročišćavala i pomagala im izmiriti dugove i popraviti stare greške.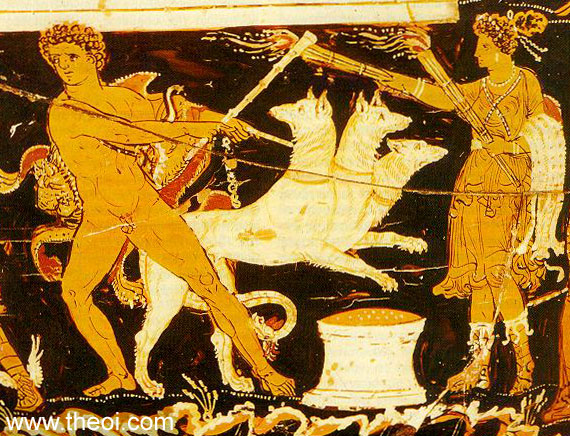 Herkules, Kerber i Hekata (krajnje
desno), apulijski crveno figuralni krater,
Antikensammlungen, Minhen, Njemačka,
cca. 330.-310.g.pr.n.e.
Dok je Hekata živjela u podzemnom svijetu, razvila je mračnije aspekte (koje nipošto nisu manje vrijedni ili nužno "zli"; naprosto su mračniji, ali jednako vrijedni kao i svi drugi njezini aspekti jer pridonose ravnoteži svijeta. Svako božanstvo, ali i svaka osoba posjeduje mračne i svijetle aspekte). Počelo ju se povezivati s duhovima i drugim bićima podzemnog svijeta koje je po pričama slala na zemlju noću. Ponekad bi im se pridružila, što bi odali okolni psi koji bi počeli zavijati. Njezina asocijacija sa psima je jako intenzivna; česti pratitelj joj je bio pas Kerber koji je živio s njom u podzemnom svijetu. Imala je još jednog psa-pratitelja; crnu kuju koja je zapravo bila trojanska kraljica Hekaba (kraljica je skočila u more nakon pada Troje u Trojanskom ratu, a po nekim mitovima je bila kamenovana na smrt, no bogovi su je pretvorili u crnog psa i poklonili je Hekati).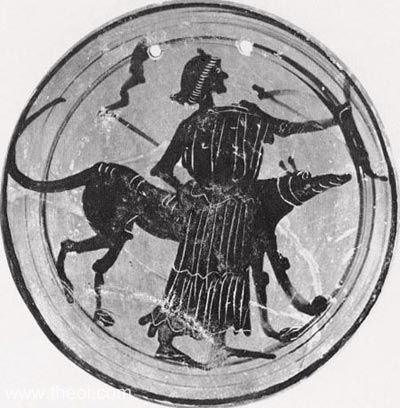 Hekata sa crnim psom,
Antiken-sammlung des Archaologischen
Insituts der Universitat,
Eberhard-Karls Universitat,
Tubingen, Njemačka,
atički crno figuralni kiliks
Pošto je Hekata bila jako bliska s Perzefonom, s vremenom se ove dvije božice počelo poistovjećivati. Na žalost su se također razvile i mnoge negativne poveznice s božicom upravo jer je bila podzemno božanstvo. Počelo ju se smatrati zlobnom i vjerovalo se da prakticira vještičarstvo pomoću kojeg kontrolira sve duhove u podzemnom svijetu. Prema nekim izvorima je ona čak imala potpunu kontrolu nat podzemnim svijetom i svime što se u njemu nalazi.
Pošto se vjerovalo da duhovi obitavaju na raskrižjima (a Hekata je često bila s njima), također je postala poznata kao božica raskrižja.
Sve je ovo vodilo Hekatinoj reputaciji kao božici podzemnog svijeta, noći (jer se vjerovalo da izlazi sa svojim duhovima samo noću), otuda i s duhovima i dušama te Mjesecom. Ona je također bila i božica magije i vještica, odnosno grčka božica vještičarstva. Njezina asocijacija s Mjesecom je još jedan razlog zbog kojeg ju se miješa s Perzefonom.
Medeja, Kirka i Gale - vještica i Hekata
Postoji više mitova koji povezuju Hekatu s vješticama i vještičarstvom iako ovo nisu jedini razlozi zbog kojih ovakve asocijacije postoje.
Prvi mit je onaj o vještici Medeji koja je također bila Hekatina svećenica. U većini priča je rečeno da je Medeja dobila svoje čarobne moći od Hekate. Ovo se doima logičnim u priči jer je Medeja također kontaktirala s duhovima i dušama (odnosno njezina magija je bila nekromantična na neki način), a Hekata je, kako sam već pojasnila, božica podzemnog svijeta i svega što se vezuje uz ove pojave.
Također su prema nekim mitovima i Kirka i Medeja Hekatine kćeri (iako se obično kaže da je ona bila djevičanska božica). Ona je navodno prenijela sve svoje znanje o vještičarstvu, travama i slično svojim kćerkama, a napose znanje vezano uz otrovno bilje koje je bilo njezin specijalitet. Kirka se naročito zainteresirala za ove teme i nastavila majčinim travarskim putevima.
Što se tiče Gale (čita se /gejl/), ona je bila vještica koja se nije mogla suzdržati od ičega. Ovo se posebno odnosilo na njezin seksualni apetit, ali se nigdje ne spominje je li ovo također vrijedi i za njezine magijske postupke. U svakom slučaju, ovo je ljutilo Hekatu koja ju je za kaznu pretvorila u tvora koji je od tada bio njezin familijar tj. pratioc (uz crnog psa kojeg sam prije spomenula).
Hekatina povezanost s vještičarstvom ne prestaje ovdje. Hesiod objašnjava da je ona noćna božica vještičarstva zbog porijekla. Naime, Asterija je bila božica noći i zvijezda, a ime Hekatinog oca - Perzes - se lingvistički veže uz Perzefonu tj. božicu podzemnog svijeta te uz Perses (nije mi poznat prijevod imena na hrvatskom) koja je bila majka Kirke i još jedne vještice po imenu Aeetes. No ova druga tvrdnja je vrlo nesigurna jer se često i samu Hekatu naziva Perseis ali i jer je u drukčijem srodstvu s Aeetes u drukčijim mitovima. Još jedan razlog zbog kojeg ju se povezuje s vještičarstvom jer je neminovno povezana s nekromantijom (komunikacija s preminulima, a poznato je da Hekata također ima veze i s duhovima i dušama preminulih). Ako se mogu ponoviti ovdje, i za njezinu navodnu kćer Medeju se vjerovalo da prakticira nekromantiju. Djelomično se zbog ovog mita (i onih sličnih njemu) vještice počelo asocirati s praksom nekromantije pa je Hekata bila upletena u cijeli stereotip.
Već sam napomenula da je Hekata bila jako vješta s biljkama, a pogotovo otrovnima. Travarstvo je bila u najmanju ruku bilo tradicionalna praksa među vješticama, a poznavanje otrovnog bilja je bilo još i važnije jer su se neke od njih mogle koristiti i kao lijekovi, ili pak protuotrovi. Uz to, osoba mora poznavati otrov da bi znala dati potreban protuotrov. Travarstvo je često bilo popraćeno magijom što samo služi da dodatno pojača vezu između Hekate i vještičarstva. Stoga se može reći da je Hekata također i božica magije i otrovnog bilja (i travarstva uopće).
Hekata kao trostruka božica
Trostruki prikaz
Hekate, mramor,
rimska kopija po
originalu iz
helenističkog perioda
Razlog zbog kojeg mnoštvo wiccana i vještica štuje Hekatu, izuzev činjenice da je ona božica vještičarstva, jest taj što se nju također naziva trostrukom božicom. Kao što možda već i znate, wiccani uglavnom percipiraju svoje glavno žensko božanstvo kao Trojnu Božicu koja ima tri aspekta: Djevica, Majka i Starica.
Ova je titula podarena Hekati kao posljedica njezine povezanosti s raskrižjima. Naime, vjerovalo se da ona čuva raskrižja na kojima se točno tri ulice sijeku. Zbog toga ju se često prikazuje kako gleda u tri smjera istovremeno. Ovo je dovelo do toga da ju se percipira kao tri aspekta iste božice koja su okrenuta leđima jedno drugom, ili pak kao božicu koja ima tri glave. Kako to obično biva u mitologiji, ove glave nisu uvijek bile ljudske. Jedna je često bila konjska, druga lavlja (ili veprova), a treća pseća (sjetite se njezine povezanosti sa psima).
Hekata, the British Museum
Još jedan razlog zbog kojeg ju se prikazuje kao trostruku jest taj što je ona imala moć nad trima carstvima - zemljom, nebom i podzemnim svijetom (ako se sjećate, Zeus joj nije oduzeo ovu moć kao zahvalu što mu je pomogla u gigantomahiji). Glavna razlika između prikaza Hekate kao trojne božice i wiccanske Trostruke Božice jest to što se Hekatu u svim oblicima prikazuje kao mladu i lijepu djevojku, dok je samo aspekt Djevice kod wiccanske božice može nazivati mladolikim. Aspekt Majke se često prikazuje kao sredovječnu ženu (iako ništa manje lijepu nego što je Djevica), a aspekt Starice, nadam se, ne treba pojašnjavati.
Rimljani su Hekatu zvali Diana Triformis (Dijana trostrukog oblika). Dijana je bila rimska ekvivalenta grčke božice Artemide koju se također često veže uz Hekatu. Pod ovim je nazivom zaista bila trostruka božica u pravom smislu riječi jer je imala tri odvojena aspekta: Dijanu (ili grčku Artemidu), Hekatu te Prosperinu (tj. grčku Perzefonu čiju smo povezanost s Hekatom već pojasnili).
Kada smo već na ovoj temi, vrijedi naglasiti da se Hekatu često poistovjećivalo, ili bunilo i s Perzefonom, i s Artemidom. Razlozi bog kojih ju se brkalo s Perzefonom su sljedeći: (1) obje su božice podzemnog svijeta i vrlo su bliske, (2) obje su nositeljice duša preminulih, (3) baklja je sastavini dio ikonografije obaju božica.
Razlozi zbog kojih ju se miješa s Artemidom su sljedeći: (1) obje se prikazuje u haljinama do koljena i lovačkim čizmama, (2) obje se često prikazuje u pratnji psa (ili pak više njih), (3) za obje se kaže da su obožavale loviti, a Artemida je čak i božica lova, (4) obje su bile zaštitnice mladih, (5) za obje se vjerovalo da su djevičanske božice, (6) došlo je do lingvističkih nesporazuma i zbunjujućih zamisli oko mita o Perzefoni, (7) obje su lunarne božice.
Još jedna božica s kojom se Hekatu često brka jest Selena jer su obje božice Mjeseca i u konačnici su obje povezane s noći i zvijezdama.
Ikonografije Hekate
Ikonografija je nauk o upotrebi simbola (ili ikona) u umjetničkim djelima koje se koristi kako bi se interpretiralo značenje samog djela. Hekatu se, kao i svaku mitološku figuru, povezuje s određenim predmetima i figurama. Upravo se pomoću ovih asocijacija tumači služe kod prepoznavanje njezine figure na likovnim prikazima.
Njezini glavni simboli su:
dvije baklje (ponekad samo jedna; ovo je poteklo iz mita o Perzefoni)
njezini pratioci/familijari (crna kuja i tvor)
psi uopće (njezin crni pas, Kerber, ponekad ju se prikazuje s psećom glavom, psi zavijaju kada je ona u blizini, a ponekad je prati i cijela skupina pasa kao i Artemidu itd.)
ključevi (ona otključava misterije podzemnog svijeta)
bodeži (ona se njima koristi kako bi "raskidala zablude", bodež se također povezuje s wiccanskim obrednim bodežom koji se naziva athamé)
djevičanska suknja koja seže do koljena, lovačke (tipičan odjeća za bilo koju djevičansku božicu, također i jedan od razloga zbog kojih ju se brka s Artemidom)
Iako ju se ne prikazuje sa sljedećim stvarima/pojavama, one su isto povezane s njom:
Mjesec
noć
podzemni svijet
duhovi/duše
raskrižja
magija/vještičarstvo/vještice
Hekatin kult
Iako je Hekata bila poznata božica u antičkom svijetu, nije ju se javno štovalo već privatno. Njezino se obožavanje uglavnom vršilo pred malim, privatnim oltarima u kućanstvima. Vjerovalo se da ovakvi oltaru tjeraju urokljivo oko i druga prokletstva (ili negativne utjecaje vještičarstva uopće).
Pošto je ona bila božanstvo raskrižja, neka vrsta oltara je također postojala na raskrižjima. Možda ih je prikladnije nazivati darovima, ili žrtvama (uglavnom se radilo o hrani) koje se stavljalo na raskrižju triju ulica kao što je i prikladno za trostruko božanstvo.
Njezin privatni kult je bio najjači u
Elizeju
(Atika, južna Grčka) gdje su dominirali poznati Elizejski misteriji. Oni su prvenstveno slavili božice Perzefonu i Demetru kao božice plodnosti i usjeva. Mit o otmici Perzefoni je sigurno bio dio ovih misterija pa je tako i Hekata bila uključena. Čini se da je njezin kult općenito bio jak na jugu Grčke, ne samo u Elizeju već u gradovima poput Atene, Egine, Argosa i tako dalje.
Prije sam spomenula da je Hekata također bila i tracijska božica. Neki smatraju da ona kao takva nije bila tracijska božica već grčka ekvivalenta tracijske božice Bendis. Po ovome bi Hekata bila plod sinkroniciteta grčke i tracijske kulture koja ja preuzela Bendisine atribute. Pošto se Trakija nalazila sjeverno od Grčke, njezin je kult bio prisutan i u sjevernijim dijelovima Grčke poput Tesalije.
Uz Elizej, njezin je kult bio i te kako jak na otoku Samotrake, a moglo ga se naći i u Maloj Aziji pa čak i na otoku Siciliji u južnoj Italiji.
Njezini su joj kultovi podarili mnoga imena i epitete. Većina ih se referira na njezine osobine, mitologiju, ili porijeklo. Evo nekoliko primjera: Perseis (Razarač, dobila je ovaj nadimak po ocu Perzesu koji je bio titanski bog razaranja), Aidônaia (Gospa Podzemnog Svijeta, kao što sam već napomenula, ona je bila podzemno božanstvo), Trimorphis (s Tri Oblika, prikazivalo ju se s tri glave, ili kao tri tijela okrenuta leđima jedno drugom svako okrenuto u drugom smjeru), Trioditis (od Raskrižja, od Triju Puteva, bila je božica raskrižja, ali i trostruka božica), Nytipolos (Koja Luta Nebom, bila je i božanstvo noći), Khthoniê (od Podzemnog Svijeta), Skylakagetis (Poglavarica pasa, asociralo ju se s mnoštvom pasa, a neku s bili i njezini pratioci), Liparokrêdemnos (Svjetlokosa, sa Svijetlim Obručem, može upućivati na njezinu povezanost s Mjesecom), Anassa eneroi (Kraljica Onih Ispod, ili Kraljica Preminulih) itd.
Hekata je na neki način zaradila lošu reputaciju zbog svoje povezanosti s vještičarstvom (kao što je vještičarstvo samo po sebi zaradilo još goru reputaciju). Ovo vuče korijene još iz srednjeg vijeka kada se vjerovalo da ona nadgleda "sotonističke rituale" koje su vještice navodno obavljale. Zaista smiješno. Odnosno, vjerovalo se da Dijana vodi ove rituale, a Dijana i Hekata su bile jako bliske (do te mjere da ih se često i poistovjećivalo). Zanimljiva teorija jest da je Hekatina trostrukost (ili još preciznije njezini prikazi na kojima ima tri glave) utjecala na Danteov opis Sotone koji ima tri glave.
Mnogima je problem povezati se s Hekatom, a neki se čak straše njezinog lika, ali glavni uzrok ovome je predrasude i zablude. Iako ova božica ima dosta mračnih aspekata, važno je zapamtiti da ona nije u cijelosti mračna. Čak i "najsvjetliji" bogovi imaju mračne aspekte. Osobno vjerujem da je moderno društvo naprosto naviknuto da sve treba biti crno/bijelo, ili dobro/loše. Stoga im je ambivalentnost božanstava kakve su štovali ljudi u antici nepojmljiva. Tada su ljudi smatrali bogove antropomorfnima. Kao takvi su morali imati svoje životne priče, veze, osobine i, što je najvažnije od svega, nisu bili savršeni! Svaki se od njih međusobno razlikovao te je u svakoj situaciji netko morao biti zločinac, a drugi heroj. Kao što je to i u stvarnom životu, ne igraju uvijek isti ljudi te uloge. Svatko pokaže svoju "mračnu stranu" tu i tamo. Tako je bilo i s bogovima.
No moramo zapamtiti da Hekata ima i mnoštvo "neutralnih" i dobrih osobina. Uz to, neke stvari koje mi danas percipiramo kao "loše" je zabluda u očima antičkih ljudi. Na primjer, podzemni svijet ne bi za njih nužno bio nešto loše; on je bio jednako važan dio kozmosa kao i bilo što drugo jer je održavao kozmičku ravnotežu. Isto se može reći i za noć; jedna osoba ju može percipirati kao isključivo lošu, dok će ju netko drugi smatrati prelijepom i čudesnom, ili pak romantičnom. Zbog ovoga vjerujem da se čak i takozvanim "mračnim" božanstvima treba pružiti prilika te da ih se treba barem pokušati sagledati iz neke druge perspektive i bez predrasuda.
Do sljedećeg puta,
vaša Witch's Cat