Potaknuta jučerašnjim tarot čitanjem, odlučila sam napisati ovaj post jer mi se jedna karta naprosto nametnula kao ključna. U pitanju je karta Čuvara Šume (eng.
Woodward
) iz seta Wildwood Tarot. Ona je jedanaesta karta Velike arkane i kao takva se poistovjećuje s kartom Snage iz mnogo učestalijeg, reklo bi se čak i "klasičnog" Rider-Waite tarota (iako Snaga ovisno o izdanju može biti 8. ili 11. karta Velike arkane).
Paralele su jasno vidljive jer je ikonografska osnova karte Snage žena koja kontrolira lava, ali ne fizičkom snagom već svojom mentalnom staloženošću. Njezin muški pandan u Wilwood tarotu jednako mirno gospodari nad svojim teritorijem i životinjama koje ga okružuju (što je očigledno prema risu koji mu leži pod nogama i glavi planinskog lava koju nosi kao simbol svog lovačkog uspjeha, junaštva i snage).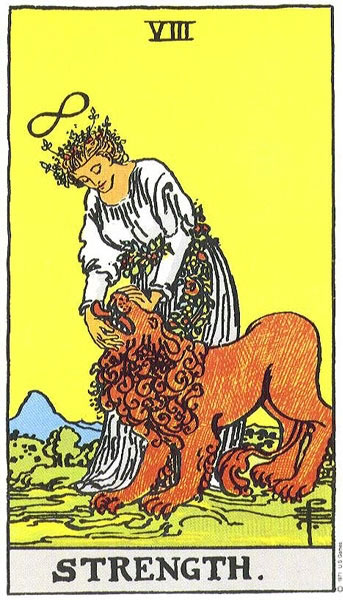 Jučer sam zapravo radila čitanje baš za Lughnasadh da vidim što mi ovaj blagdan donosi, odnosno što me čeka u narednih nekoliko mjeseci. Čuvar šume me dočekao kao posljednja i zaključna karta koju sam izvukla i tako na mene ostavio prilično snažan dojam. Da bi stvari bile još zanimljivije, autori Wildwood tarota su napravili Kolo godine po kojemu su poredali sve karte Velike arkane tako da su po svom značenju usklađene s godišnjim ciklusom. Pogodite na kojoj se točci Kola godine nalazi Čuvar šume? Upravo na blagdanu Lughnasadh/Lammas.
Jedna od poveznice karte s ovim blagdanom je brdo koje se nalazi u pozadini. Ono je poznato kao Silbury Hill i nalazi se južno od mjesta Avebury u Engleskoj. Ono je za sad najveće brdo (tj. humak) napravljeno ljudskom rukom u povijesti čovječanstva. Arheolozi su ustanovili da je nasipanje počelo oko 2 660. g. pr. n. e. i to upravo početkom kolovoza, odnosno nakon prve žetve. Neka tumačenja brda ističu da je bio simbol ovog perioda kraja prve žetve jer ga se od obližnjeg Aveburya moglo vidjeti na horizontu tek nakon što bi se požnjelo svo visoko žito koje je zaklanjalo pogled.
Svakako, poruka koju sam dobila u čitanju se direktno tiče unutarnje snage i ravnoteže koje su potrebne u ovom periodu. Zato bih podijelila svoja razmišljanja o ovome s vama u nadi da ću vas potaknuti na daljnja osvajanja u narednim mjesecima.
Prvo mi dozvolite da pojasnim izgled karte. Centralna muška figura predstavlja arhetip čuvara; snažnog muškarca sa svim obilježjima muževnosti (brada, brkovi, ratna odjeća, oružje i k tome krvavo) koji gospodari nad teritorijem oko sebe. Međutim, u prizoru je neobično što ovaj čovjek zapravo nije u stavu pozora, ili pak napada, već stoji kao da se odmara - podigao je jednu nogu na uzvišenje i pije vino iz prilično fine čaše koju autori seta opisuju kao kalež "davanja, intoksikacije i suosjećanja". Iako će Mabon tek doći u rujnu, vino i na ovoj karti igra bitnu ulogu kao simbol dijeljenja i slavlja sakupljenog uroda za Lammas. Ali najbitniji je zapravo njegov opušteni, gotovo kraljevski stav zbog kojeg jednostavno zrači unutarnjom snagom.
Originalna simbolika karte Snage nas upozorava da ćemo mnogo više toga postići strpljenjem i ako smo uravnoteženi i ispunjeni ljubavlju nego ako se prepustimo osjećajima bijesa i mržnje.
Svi naiđemo na prepreke u životu. U Kolu godine, nadolazeći zimski mjeseci su prepreka, a u drevnim vremenima je samo upornost, uravnoteženost i umjerenost (npr. u konzumiranju hrane tijekom tih mjeseci), pomno planiranje zaliha i strpljivo, marljivo skupljanje uroda u kasno ljeto i ranu jesen moglo održati ljude na životu tijekom tih hladnih mjeseci. Unutarnja snaga je i ustrajnost su ono što nas tjera da idemo dalje i da ne posustanemo pred svakom preprekom. Ovdje bih citirala autore Wildwoot tarota koji opisuju ovu kartu sljedećim riječima:
"The Woodward, an ancient guardian of the Wildwood, symbolizes the inner power that comes from facing fear and understanding the nature of darkness. The inner strength that comes from this awareness gives the individual the emotional body language and the humility that says: 'I am not a victim. Treat me with respect. Do not mistake my passivity for wakness'."
(Prijevod: Čuvar šume, drevni zaštitnik Divlje šume simbolizira unutarnju moć koja proizlazi iz suočavanja sa strahom i razumijevanja naravi tame. Unutarnja snage koja proizlazi iz ove osviještenosti daje pojedincu emocionalni govor tijela i poniznost da kaže: 'Ja nisam žrtva. Postupajte prema meni s poštovanjem. Nemojte zamijeniti moju pasivnost za slabost'.)
Obično se dogodi da ljudi žive u uvjerenju da su snažni, da mogu sve (ili pak da ne mogu ništa i da su užasno slabi), ali stvari postanu jasne tek kad smo suočeni s kriznim trenutkom. Tek tad zapravo upoznajemo svoje mogućnosti i svoju pravu snagu. Ali surova snaga nam ne može biti jedini fokus. Moram ponovno citirati autore Wildwood tarota koji zaista pjesnički opisuju ovu kartu:
"The strength of the Woodward is both a balance and a dichotomy between te energy of the hunter or the guardian, and the grounded inspiration found within the ecstasy of drumming and war dancing. These energies honor the qualities that provide protection and inspiration."
(Prijevod: Snage Čuvara šume je ujedno ravnoteža između dihotomije energije lovca, ili čuvara te uzemljene inspiracije koju se može naći u ekstazi bubnjanja i ratnom plesu. Ove energije odlikuju kvalitete koje pružaju zaštitu i inspiraciju.)
Bilo da je riječ o kriznoj situaciji, o neminovnoj istini, privatnom/poslovnom problemu, Čuvar šume poručuje da je sve moguće preživjeti uz dovoljno ustrajnosti i unutarnje snage.
Da se vratim na Kolo godine, zamislite poljoprivrednika koji cijelu godinu sije, pa njeguje svoje žito. To je ustrajnost. I onda dođe prva žetva pa nakon tog silnog rada u prethodnim mjesecima još mora izvući snage niotkud kako bi sakupio sve plodove svog rada. Nema izbora; on to mora napraviti usprkos tome što je na izmaku snaga, što mu nestaje strpljenja i što posustaje pod užeglim ljetnim suncem. O tome ovisi hoće li on i njegova obitelj preživjeti zimu. Za ovo posljednje je potrebna unutarnja snaga.
Od Lughnasadha počinje vrijeme ubiranja plodova našeg rada. Ponekad se ti plodovi manifestiraju kao nagrade za uložen trud i ispravne odluke, a ponekad kao posljedice krivih oduka. No, moramo znati prihvatiti oboje i učiti iz iskustva.
S ovim vam svima želim sretan i blagoslovljen Lughnasadh! Neka vam prva žetva bude uspješna.
Vaša Witch's Cat